Certified Acura Technicians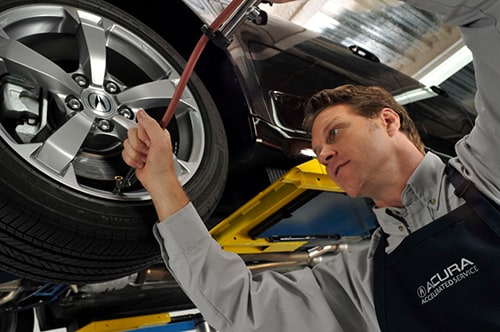 Your Acura dealer's service department provides the best care for your vehicle. Our technicians have spent many hours studying and training on proper Acura maintenance and repair procedures. Most Acura technicians have years of extensive experience servicing both newer and older Acura models. The best technician to service your Acura vehicle is a highly qualified, Acura-trained and ASE Certified technician at your Acura dealer's service department. 
Because Acura vehicles are one of a kind, our Acura technicians utilize the most up to date technology and special tools that are specifically designed to ensure that your vehicle is properly serviced. Acura technicians possess the knowledge to provide customers with the best quality and the safest service and maintenance experience.
Our client lounges are designed to provide the best dealership experience. We keep our facilities clean, comfortable, and functional. Also, we provide amenities that add value to an enjoyable experience. 
 Starbucks Coffee and refreshments  
 WiFi 
 Work Stations 
 Loaner Vehicles 
 Saturday Service Available 
 Free Car Wash 
 Cable Television 

Quality Maintenance
 Scheduled maintenance keeps your Acura in excellent condition.  When your Acura requires service and maintenance, our factory trained staff will assure that your Acura performs at its best, utilizing only genuine Acura brand parts.
Meet Our Staff
Our service department strives to address any and all service or maintenance needs. View our staff page to communicate with our employees by email or phone.
Facilities
Our facilities are built and designed to service your Acura vehicle fittingly and efficiently. Our state of the art Service center is equipped to provide customers with a pleasant experience while their vehicle is being serviced with original Acura parts and Acura approved equipment.